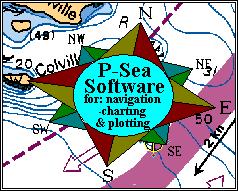 Brought to you by P-Sea Software Co. USA
PO Box 1390
Morro Bay, CA 93443
Ph.# (805) 772-4396


---
Demo Download page!
---
(See our product pricing, dealers, chart list as well)

Download this file PLOTDEMO.EXE (approx. 3 Mbytes) to get the demo setup program. This is a self-extracting file that produces a demo setup program in a \TEMP file that you can either run right away to install the demo or put it onto a floppy to give to your friends. Just run SETUP.EXE from either the default TEMP directory or copy all of the files in the TEMP directory to a blank floppy. Then run SETUP to install the demo. The file extractor also has a run check box. The SETUP program will run automatically should you check this box.

A new icon will appear in a window that looks like the globe for the chart plotter demo. Just click this to begin the demo. There is a TXT file in PLOTDEMO directory should you have any questions on how to run the demo.
---
NEW: download the following MOVIEs to see some of the features of the program in action as they are explained.

Main plotter demo WPdemo.exe (approx. 90 Mega bytes) Shows basic WindPlot functions.

P-Sea FishFinder AVI video for Windows media player P-SeaFFdemo.AVI 9mb A full color fish finder+ (Option with bottom hardness and roughness).

Old fish finder demo SndrDemo.exe (approx. 57 Mega bytes) A full color fish finder (0ption) with bottom hardness and roughness readouts.

AIS option demo AIS_Demo.exe (approx. 4 Mega bytes) This currently FREE option shows other vessels with AIS position reporting devices.

3D option demo Demo_3D.exe (approx. 111 Mega bytes) See how our 3D option works.

RADARpc option demo RADARpc_Demo.exe (approx. 40 Mega bytes) Radar chart overlay option with ARPA vessel tracking features.

RADARpc demo w/new features like real mode RADARpcDemo2.exe (approx. 20 Mega bytes)

Fishing logbook (included w/windplot LogBkDemo.exe (approx. 4 Mega bytes) NOAA developed fish logbook.

Navionics GOLD charts demo NavionicsDemo.exe (approx. 6 Mega bytes) See what Navionic charts look like.

C-Map charts demo CmapDemo.exe (approx. 10 Mega bytes) See what C-Map charts look like.
We are just testing this demo download so please E-Mail us with any comments you have on the installation or the demo itself (good or bad).
---

Back to P-Sea Software Home page

webinfo@p-sea.com